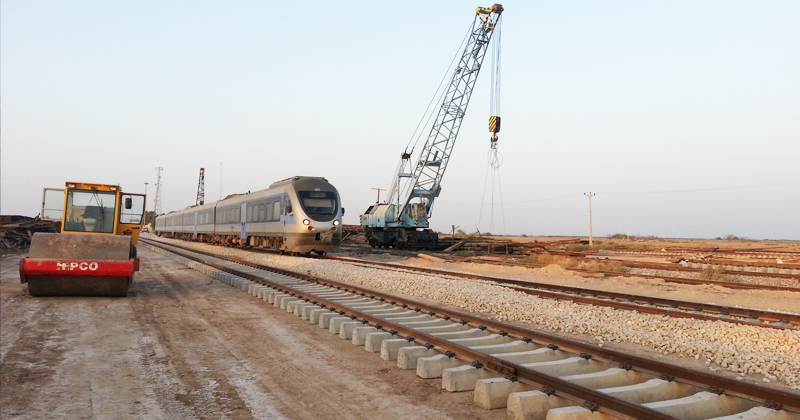 Because the trans-national railroad network are continuously operated, for this purpose, their quality will be reduced and depending on the life of the line as well as quality of pavement materials and quality of its infrastructure, it required to implement improvement and rehabilitation programs. Rehabilitating the lines is always considered as one of other main activities of company and by its long background for implementing above mentioned operation, this company succeeded to execute various contracts in this field.
Rehabilitation process is similar to pavement of the lines with this different that during rehabilitation, initially old wear lines will be removed and after repaving the line and ballasting the primary layer, the rails will be embedded followed by other complementary operations of the line. During rehabilitating the lines, the infrastructure of the route will be also repaired and even in some projects implemented, the existing infrastructure will be completely destructed with new infrastructure operation conducted.
Usually, after twice or three times of executing the improvement operation for railroad, based on conditions of operation and climate conditions of the region, it is necessary to replace the pavement of the line and strengthen its infrastructure and bed.  Therefore, other duties of department for maintaining the lines and technical constructions is general rehabilitation of the routes that have been worn to such extent that must be replaced. In this case, the quality of lines and their safety will be increased by
replacing old couplings by new ones and replacing the ballast.
| Employer name | Projects for rehabilitation and renovation of lines for trans-national railroad network |
| --- | --- |
| Railroad of Islamic Republic of Iran | Rehabilitating 100 km of line in non-mountainous regions |
| Railroad of Islamic Republic of Iran | Rehabilitating 50 km of the line in the south route |
| Railroad of Islamic Republic of Iran | Rehabilitating and renovating 60 km of line in the south route |
| Railroad of Islamic Republic of Iran | Rehabilitating and renovating 80 km of line in Kerman route |